4 minutes reading time
(892 words)
What Takes Place During an IVLP Exchange?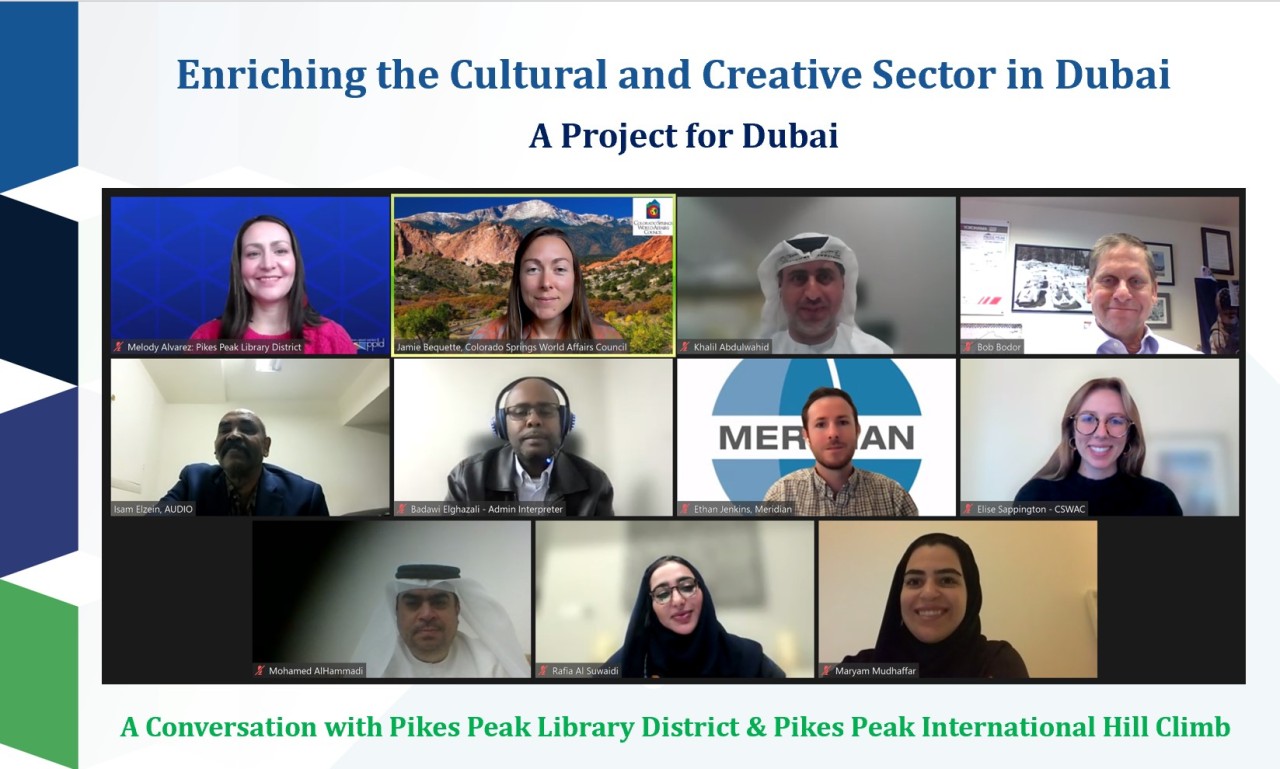 On March 22, a delegation of seven professionals from the Dubai Culture and Arts Authority "virtually" visited Colorado Springs. They participated in a meeting with two local resources, the Pikes Peak Library District (PPLD) and the Pikes Peak International Hill Climb (PPIHC) to hear and exchange ideas about "Enriching the Cultural and Creative Sector in Dubai."
The first meeting was with Pikes Peak Library District Director of Family and Children's Services, Melody Alvarez. The Pikes Peak Library District serves El Paso County's over 700,000 residents by offering 15 different library locations, including "mobile library services" in rural areas.
Although the PPLD offers the community with literary services, their "libraries are more than books." Among library services, their libraries also serve as "cultural hubs" for the Colorado Springs community. One example of this is Library 21 C which was the largest and first of its kind in the area, built to house the Knights of Columbus Hall, an auditorium space available to the public to host performances, classes, and more. Their libraries also feature art galleries, interactive displays, and "Makers Spaces" where resources like 3D printers, woodcutters, sewing machines, and recording studies are offered to makers for free. Additionally, the PPLD provides professional and developmental training to interested community members through their culinary courses, ESL, GED, and Online Highschool courses, and a Law Library where resources and experts are available to assist with legal education. The goal of PPLD is to eliminate barriers to access to education, professional development, and safe spaces to learn and grow, meaning 100% of their services are free.
One delegate, a project manager for the Dubai Culture and Arts Authority, shared about Dubai's "specialized public libraries" whose resources, displays, and even external architecture exclusively reflect one subject matter. An example she gave was the specialized Art and Design Library which is architecturally different than the standard public library and is exclusively filled with art and design literature and displays.
This comment was most memorable to Alvarez.
"I loved hearing feedback from the delegation and learning about their public libraries in Dubai, especially their specialized art public library," Alvarez said. "I believe we all learned something that we want to bring back to our own communities.
"[Speaking with delegates] was such a rewarding experience," Alvarez said. "I love sharing what Pikes Peak Library District has to offer in general but being able to share it with the Dubai delegation was really incredible."
Our second speaker for the meeting was Bob Bodor, Executive Director of the Pikes Peak Hill International Hill (PPIHC). Bodor became the executive director in November 2021, prior he was a part of the Olympic movement for years gaining much exposure to international sporting events.
Bodor explained that 2022 marks the 100th year of the Pikes Peak International Hill Climb, a race that began in 1916 after Spencer Penrose financed the road and used the race as a way to promote the new highway. The PPIHC event highlights Colorado Springs' natural resources and skills. This year's race is held on June 26 on the public road leading to the summit of Pikes Peak. The starting and finish line of the race has never changed in its 100 years of racing. The race is 12.4 miles long, beginning at 9,390 ft, incorporating 156 turns, and ending at 14,115 ft. Unlike other motor races, drivers participating in the PPIHC get one chance to make the fastest time and take 1st place. As of 2022, the Pikes Peak International Hill Climb had 12 countries represented in its race including, Japan, France, Peru, Australia, and more.
In Bodor's remarks post-meeting, he expressed his experience presenting.
"It was really interesting not only sharing my story, the race story, but honestly seeing the enthusiasm from the respondents, and the questions were outstanding. It was quite enjoyable to see the enthusiasm on people's faces. I'd like to think that I created a few fans of our race and that's always a good feeling as well."
The delegation was able to share about Dubai's International sporting events such as bicycling, the Dubai World Cup – the most expensive horse race in the world, tennis championships, and rally car racing. They also explained that the crowned prince of Dubai, Hamdan bin Mohammed Al Maktoum is an advocate for international sporting events.
Specifically, some of these comments came from the women delegates, this stood out to Bodor.
"I was really pleased to see women engaging. You know, oftentimes people think of motorsports as a male-dominated sport and industry and there was a lot of engagement from some of the women participants. I was very excited to see that there was definite interest from everyone of course but that it was not just on the male side."
Bodor also explained how much he valued this time of connecting with colleagues from around the world.
"I didn't necessarily feel like I was speaking with anybody outside of the US or anywhere in the world. It felt so comfortable. It was simply just human beings sharing stories. To me, it's always uplifting when you make a connection, all be it on a very short zoom call, but a connection nevertheless with people in different parts of the world."
He continued.
"Anything that bridges our nations is something that is always going to be a joy to participate in."
Elise Sappington
Stay Informed
When you subscribe to the blog, we will send you an e-mail when there are new updates on the site so you wouldn't miss them.
Comments
No comments made yet. Be the first to submit a comment